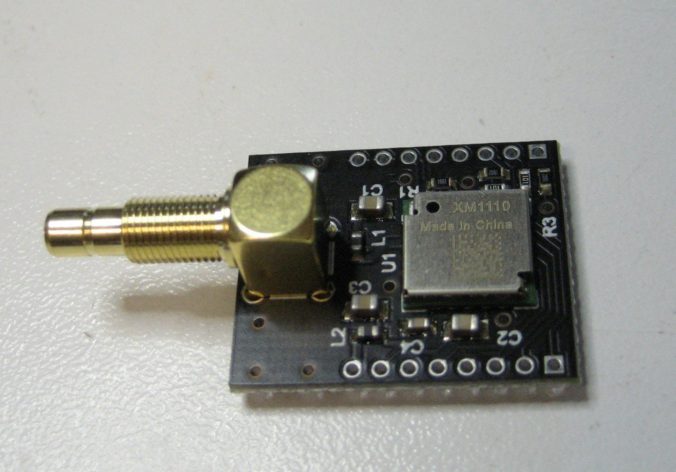 GPS modules are coming down in price, with cheaper units made overseas being available for under $10. However, they come with some disadvantages. They typically have lower accuracy, and worse reception. This means it takes a lot longer to get an initial fix, like the GPS receivers from the 1990s which needed an open sky and many minutes.
But a recent chipset from Mediatek has improved in both areas. It is more accurate and more sensitive. This GPS receiver board from elektronic-idee pairs the new Mediatek MT3333 chipset with a beefy antenna connector. With the included antenna, it's possible to get decent GPS reception indoors. This makes it an ideal partner to a GPS-disciplined clock source for your home lab. Even a high-quality rubidium oscillator can be improved by adding GPS discipline. You will see an even bigger difference when pairing it with either a temperature compensated or oven controlled quartz oscillator. (Psst, the same seller actually sells a pre-made GPS-disciplined oscillator that integrates this same GPS chipset!)
This receiver supports 33 channels of tracking with 99 channels for acquisition. It supports both GPS and GLONASS, as well as various SBAS (Satellite-based Augmentation Systems) which can, in certain parts of the world, give more accurate location fixes and timing outputs. In this category, it supports both current and future American, Japanese, and European augmentation systems.
It can give accurate position data using as little as 7mA! Even in full-power tracking mode, the GPS module only uses 23mA. This is an order of magnitude better than older generation chipsets, and can dramatically increase battery life. This makes options like solar or energy harvesting viable.
The chipset boasts an active interference canceller, and a built-in logging function. This is the perfect chipset to use in low-power IoT solutions that need location data. As a bonus, the seller includes an active GPS antenna which supports 3.3 or 5V (though the board itself runs at 3.3V) that will improve signal reception. Compared to passive antennas, the difference can be amazing, especially when indoors or when line-of-sight to the sky is impeded.
If you've been looking for a low-power, high-accuracy GPS receiver, or if you've been wanting to add GPS discipline to your lab oscillator, this board is a great choice!