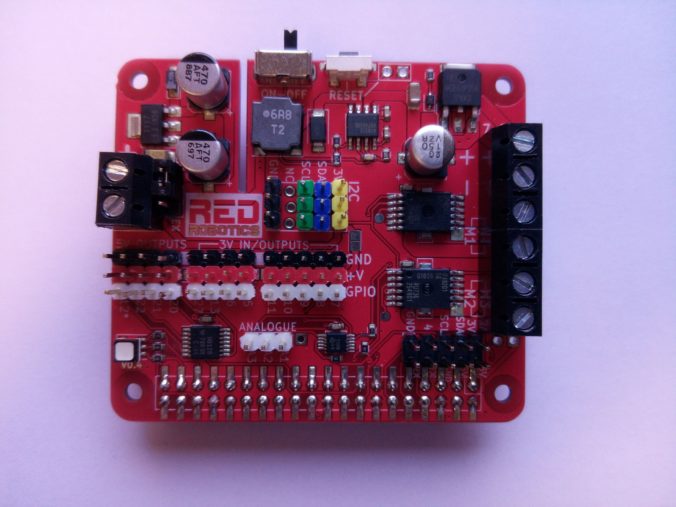 The Raspberry Pi series of single-board computers has been popular with robot-making hobbyists because of its low power draw and excellent software support. However, actually connecting the Pi to the hardware is a stumbling block for first-time robot builders. Tapping into the power of a board like the RedBoard+ can make the design and testing of a robot much simpler.
The RedBoard+ includes two quite beefy motor driver circuits which can drive up to 6A per motor! That's a lot of power for a board this size. It also has 12 channels of servo drivers, with an optional secondary power input just for the servos. Breakouts for I2C and serial are also provided, which is a nice touch.
The battery input accepts anywhere from 7 to 24V, which gives quite a bit of flexibility to your battery and motor selection. ADC inputs are available, with one dedicated to battery monitoring. A 5V level-shifter allows interfacing with 5V electronics, another very nice touch. And best of all, the board will power the Pi from your battery, so no need to connect anything else to the Pi!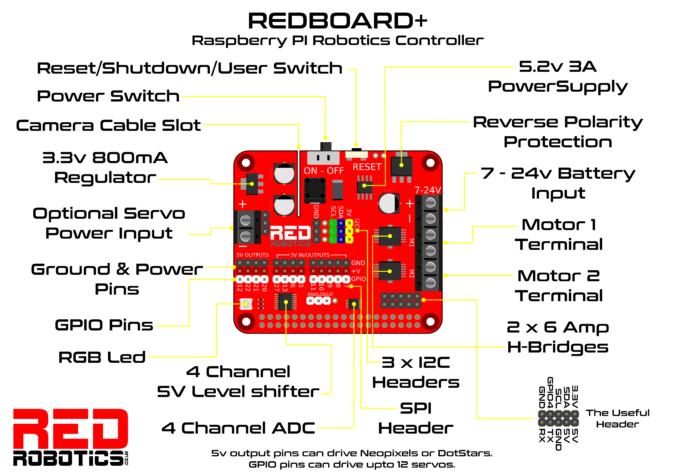 Adding even more value to this product is the well written documentation that appears to be constantly evolving. The Python software library that has been written for this board is easy to use and very straightforward, and the code and documentation is all available on their GitHub page. There is a ready-to-use SD card image available also, meaning getting a working setup is as easy as writing the image to an SD card and booting your Pi. I really like when Pi-based projects offer images, as it can eliminate an often difficult step of getting the software ready to go.
This project seems like a strong contender for the best robot building platform for the Pi. I'm hoping to see schematics and PCB layouts added to the GitHub repository at some point, as I'd love to take a deeper look at which parts are used and be able to hack on the design!