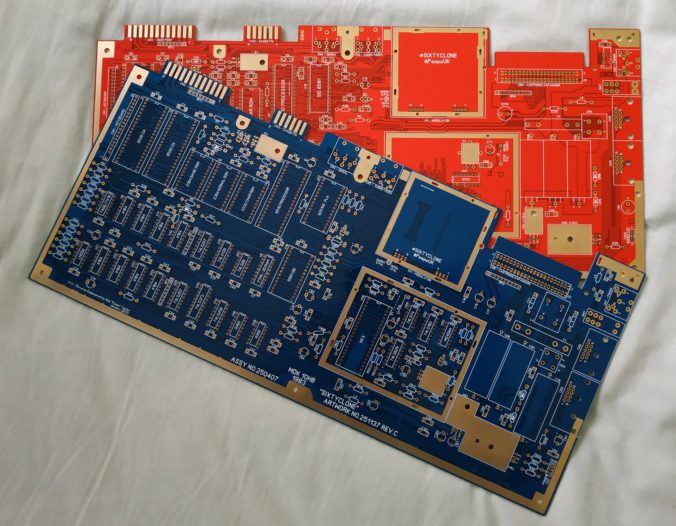 Recently, I wrote a post about this awesome replica PCB for the Commodore Amiga 500 series. That same designer has now released a similar replica PCB for the Amiga's older sister, the Commodore 64!
The "SixtyClone" comes in two different flavours, depending on which era of 64 you are trying to repair (or create from scratch!). The older design uses chips which are slightly easier to get, but has a less reliable design (according to Commodore enthusiasts). The newer design reduced the number of logic chips, but some of the chips — such as the less common 2x32kb RAM chips — are much more difficult to obtain. Despite this, it is considered the superior design with less complexity and higher reliability.
Why offer these boards in the first place? As many vintage computers age, they tend to have capacitors and/or backup batteries which leak, causing corrosion damage to the PCB. Sometimes it's possible to clean and repair, but in many cases the corrosion has eaten through internal copper layers, and repair can be a hair-pulling exercise in futility. Having a brand new, tested, and reliably made replacement board can make refurbishing older machines much easier and less frustrating!
As he did with the Amiga replicas, Bob's Bits has improved the silkscreen design, making it easier to read and with better placement and naming of component labels. He has also made a few small tweaks to the layout, in order to improve a few small design elements that were likely rushed on the Commodore 64.
As a bonus, his Tindie store also sells optional extras to help repair a damaged or old 64. He stocks resistor and capacitor packs which have every capacitor and resistor needed to populate the replacement board. As of this writing, the older style board is sold out, but there are still quite a few of the newer design available. Keep checking back to see when new stock comes in!